Not Sure Where to Start? Partner with Us.
We'll pinpoint precisely which financing programs will best meet your needs.
Green Banks  |  State & Local Governments  |  Nonprofits  |  Solar Developers  |  Housing Finance Authorities  |  State Bond Banks & Infrastructure Authorities  |  Building Portfolio Owners  |  State Energy Offices  |  CDFIs
Achieve your greenhouse gas reduction, housing, lending, economic development, and other goals faster and more efficiently through a partnership with IPC.
We specialize in delivering tailored financing programs, de-risking strategies, and data-driven market assessments to help organizations like yours unlock new opportunities, connect projects to capital, mitigate risks, and foster sustainable growth through targeted initiatives, no matter where you're located.
Comprehensive Financing Programs  |  De-Risking Solutions for Lenders  |  Data-Driven Market Assessments  |  Asset Ownership and Management  |  Collaboration on Product, Program, and Process Design
We can help you run successful financing programs to reach everyone in your community, including solutions for: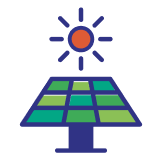 Structured Project Financing
Our team of seasoned professionals has the expertise and experience to design and implement strategies that cater to the unique needs of state and local governments, green banks, CDFIs, nonprofits, and developers. 
We understand the intricacies of your industry. Our experts are armed with data-driven insights and innovative solutions designed to navigate and overcome the complex challenges you're facing.
At IPC, we follow a three-step process to deliver impactful results for our partners.
Turnkey Financing Solutions for Underserved Communities, Markets, and Credits
Our products and expertise can effectively address your top challenges, driving transformative results for your organization and community.
Target highest-return projects that advance your goals
We'll discuss how our tech-enabled solutions can unlock new opportunities for your organization.

Our team will explore channel partner strategies that can effectively build a robust project pipeline.

Finally, we'll identify relevant financing solutions tailored to your project's unique needs.
Identify existing resources and institutions to drive change
Our team will offer guidance on resource and gap assessments, and help you identify the key stakeholders that will maximize your project's impact.

Additionally, we'll share our expertise on the long-term solutions that capitalize on existing lending infrastructure for sustainable growth and success.
Assess market needs to achieve success
We'll facilitate productive discussions among building owners, lenders, and affordable housing stakeholders to ensure all perspectives are considered.

You'll get valuable best practices from existing building resource hubs, enabling you to optimize their use and impact.

Our experts will suggest tailored strategies to address the technical assistance needs of building owners and lenders, empowering them to contribute effectively.

You'll also get access to customized curriculum designs for lender training, which will equip them with the knowledge and tools required for success.
Accelerate Your Impact with Proven Solutions
We developed our products and services to ensure everyone has access to the benefits of clean energy.
With our team of seasoned professionals by your side, you can navigate complex challenges, maximize resources, and catalyze your clean energy program successfully.
Are you ready to transform your clean energy program with proven financing products for underserved communities, markets, and credits? Start your journey with us.